Event date
Start time
4:00 (pm)
Event description
Je vous propose pour ce Samedi un fim semi-autobiographique sur
Steven Spielberg
THE FABELMANS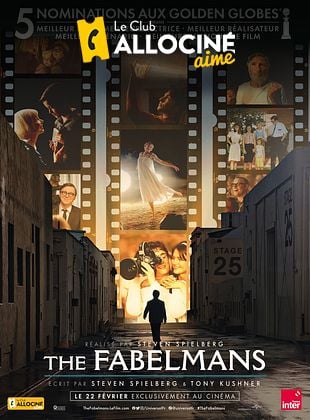 Genre : Biopic, Drame
Réalisé par : Steven Spielberg
Avec : Gabriel LaBelle, Michelle Williams, Paul Dano
Portrait profondément intime d'une enfance américaine au XXème siècle, The Fabelmans de Steven Spielberg nous plonge dans l'histoire familiale du cinéaste qui a façonné sa vie personnelle et professionnelle. À partir du récit initiatique d'un jeune homme solitaire qui aspire à réaliser ses rêves, le film explore les relations amoureuses, l'ambition artistique, le sacrifice et les moments de lucidité qui nous permettent d'avoir un regard sincère et tendre sur nous-mêmes et nos parents.

Passionné de cinéma, Sammy Fabelman passe son temps à filmer sa famille. S'il est encouragé dans cette voie par sa mère Mitzi, dotée d'un tempérament artistique, son père Burt, scientifique accompli, considère que sa passion est surtout un passe-temps. Au fil des années, Sammy, à force de pointer sa caméra sur ses parents et ses sœurs, est devenu le documentariste de l'histoire familiale ! Il réalise même de petits films amateurs de plus en plus sophistiqués, interprétés par ses amis et ses sœurs. Mais lorsque ses parents décident de déménager dans l'ouest du pays, il découvre une réalité bouleversante sur sa mère qui bouscule ses rapports avec elle et fait basculer son avenir et celui de ses proches.

RV à 16 h 00 en haut de l'escalator pour la séance de 16 h 15
Un petit restau ensuite
pour ceux qui le souhaitent
à OLD WILD WEST
LE MASQUE ET LE PASS SANITAIRE NE SONT
PLUS OBLIGATOIRES
Multiple registration possible?
Maximum slots available
YesEx: John (+2)
6
Exact address
meeting location
To know the exact rendez-vous point, log in!
To know the exact rendez-vous point, log in!
List of registered members
(4/6 , available: 2)